The Eaton Centre overhaul continues with another new addition to its shopping arsenal. After recent store openings from J. Crew and Massimo Dutti, last night saw the debut of the first, not only Canadian, but international Ann Taylor store.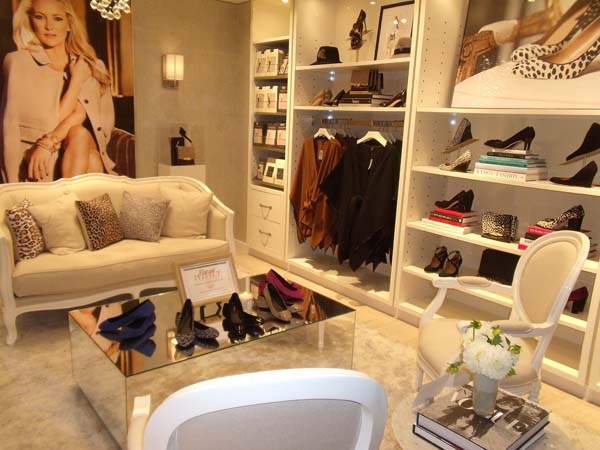 The grand unveiling was welcomed by a large crowd of socialite types, who packed themselves amongst the cashmere sweaters with a canapé in one hand and a glass of Champagne in the other. Marilyn Dennis made an appearance, though much to my disappointment, the face of the brand's Fall 2012 collection Kate Hudson was absent.
Still, the store was a treat to behold, set within a large neutral space, the decor was white throughout with pops of color — royal blue and fuchsia play a key role in this season's line — adding that je ne sais quoi to a functional office wardrobe.
Like it's adjacent competitor Massimo Dutti, Ann Taylor targets the working woman who wants staple clothing that can take her from office, to playground, to aperitifs. Of course, if you're not that kind of type-A specimen, there's one thing with which Ann Taylor really shines: jewellery.
From the bejeweled cuffs, to the tortoise shell and tiger's eye pendant (probably my favourite piece), to the resin link necklaces, the brand offers a never-ending selection of statement pieces. And believe me, they make a statement. Just teaming an Ann Taylor necklace with a simple shirt will instantly transform an outfit (I spotted a number of sales doing just that with this pearlized and jet bead piece), taking the look from drab to fab with one lock of a clasp.
After browsing and mentally composing my Christmas wish list of accessories, I had to ask, who is Ann Taylor? Is she a real person or is she like the proverbial Victoria of Victoria's Secret? It turns out "Ann Taylor" was the name of a dress pattern, gifted to founder Richard Liebeskind by his father in 1954. The "Ann Taylor" design embodied the well-dressed woman, and the legacy was born.
Visit the next part of this legacy on the third floor of the Toronto Eaton Centre, 220 Yonge Street (@ Queen Street).