Iconic British label Mulberry, known for its luxurious "you've made it in life" handbags, recently announced its intention to branch into the snowy North with a new store in Yorkdale Shopping Centre.
As you're probably aware, Yorkdale's humongous $331 million expansion is adding all manner of new and exciting stores to our shopping lists, like a White House Black Market, a Zara Home, and the crème de la crème of it all, a suited and booted Nordstrom. Now Mulberry is joining the ranks of retail expats, opening its store in Fall 2013, however, it seems Yorkdale is only the beginning.
According to Retail Insider, Mulberry is also planning a second location on Toronto's Bloor Street. Replacing the current Lacoste unit at 131 Bloor Street, the new Mulberry site will carry the full line of accessories, as well as women's ready-to-wear clothing and shoes. Of course, Mulberry bags are currently available at Holt Renfrew, but interestingly enough, this second store opening will make Toronto only the second North American city to have more than one Mulberry store, and only the fourth North American city to have free-standing Mulberry shops. Pretty neat huh?
In honour of the glorious rain of Mulberry that's currently showering our nation, I thought I'd showcase some of their latest Spring/Summer creations…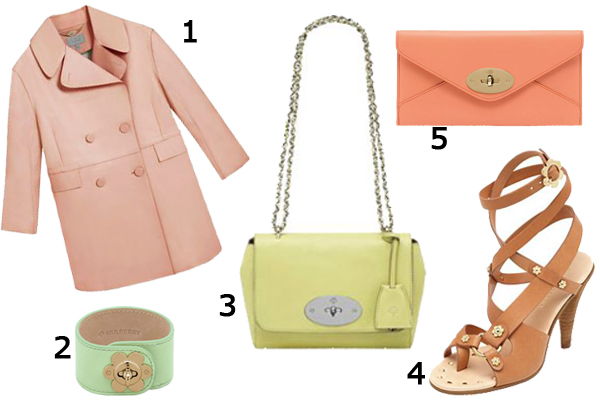 1: Long Peacoat, $4305; 2: Mint Flower Lock Bracelet, $234; 3: Pistachio Glossy Goat Bag, $1088; 4: Biscuit Flower Sandal, $931; 5: Apricot Envelope Wallet, $461