Gwen Stefani's been rocking them for months, Beetlejuice has made them his staple for years, but now the stripes trend is traversing down to the masses.
As spotted on the Spring 2013 runways of
Vivienne Westwood, Balmain
and
Dolce & Gabbana
to name a few, walking the line is the big thing to do this season. And whether the stripes are black or white, thin or thick, horizontal or vertical, I've picked out some of the hottest, most linear pieces available in Canada right now.
1. Shopbop
Alice + Olivia Blazer ($516); Tory Burch Satchel ($528); Eugania Kim Sunhat ($316); and Crosby Derk Lam Dress ($528).
2. Holt Renfrew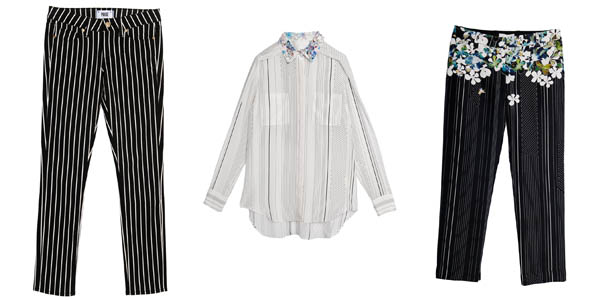 Paige Denim Jeans ($245); 3.1 Phillip Lim Shirt ($535); and 3.1 Phillip Lim Trousers ($595).
3. ASOS
Motel Rox Skinny Jeans ($83); ASOS Midi Skirt ($55); and ASOS Sequin Stripe Jacket ($90).
4. The Bay
Pink Tartan Long Sleeve Stretch Dress ($425); Expression Tara Wedge Sandal ($59); and not forgetting, the most iconic stripes of all, the Hudson's Bay Collection Simcoe Peacoat ($695).