44 years ago today, a catwalk queen was born. Today is legendary supermodel Naomi Campbell's birthday and there's no denying she's as fabulous as ever, not to mention she doesn't look a day over 29. #werque. The UK-born diva has shown us how to walk, talk, throw shade, and in some cases, cell phones. She continues to be a muse to designers and editors and inspires us to be confident queens that don't take smack from anyone.
Her reputation might be dubious to some, but we like to think of Naomi as a stern mother who is in charge of her s**t. Happy Birthday, Naomi, here's 20 reasons why we're celebrating:
1. Nobody's messing with her walk
source: Huffington Post
2. Seriously, NO ONE
source: Naomi Hit Me
3. She knows she's one-of-a kind and demands respect like a

bawse
source: Daily Mail
4. She's an expert at expressing nonverbal displeasure
source: Vivienne Westwouldn't
5. Her body roll is on point
source: Ritz
6. She laughs off all silly situations
source: Vh1
7. …and laughs
source: Giphy
8. and laughs
9. Because she's really not here for your foolishness
source: ONTD
10. She's well-versed on how to identify a good quality hairpiece
source: World of Wonder
11. She's so cute when she pretends to not know how to throw shade
source: Reality TV Gifs
12. She's not afraid to shed a couture tear or two
source: Perez Hilton
13. She's got the best tips for eliminating your enemies
source: Bidness etc.
14. She doesn't rest on her laurels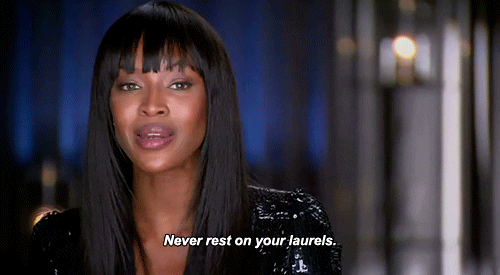 She used her supermodel career to launch a TV franchise, The Face, which is now in its second season, with standalone Australian, British, French and Canadian editions.
source: Giphy
15. She has perfected the side-eye
source: Gifbase
16. She knows how to say no
source: Elitist Fashionista
17. You know when she's silently judging you
source: Queerty
18. She calls it like she sees it
source: Fashi0n Gifs
19. She knows how to accept a compliment
source: Ellie Goldeen
20. Ugh, we're just so proud of her… HAPPY BIRTHDAY, MOTHER NAOMI!
source: The Face Tumblr