The Duchess of Cambridge fever truly set in internationally upon the release of the official promotional material reporting her engagement to Prince William. If we cast our minds back, the first thing which we all probably recall is her stunning blue ISSA dress. Remember how so many fans wanted to emulate her style that the dress immediately sold out, and then, even the high street went crazy trying to produce similar inspired pieces for less? Then, at the end of last year, the dress was brought back to the forefront of our fashion consciousness when ISSA recreated five more of the previously discontinued dresses as part of online fashion week. If that wasn't enough to render the dress as one of the most memorable in history, it's also featured on the official Kate wax work at the infamous Madame Tussauds in London.
Pippa Middleton: Copy Cat
Bearing all of this in mind, why on earth Pippa Middleton, would you knowingly buy the same style ISSA dress to wear to your friend's wedding? Admiring your sister's style and borrowing her clothes is one thing, but actually going out and buying an almost identical version of such an infamous dress, knowing full well that you're more than likely going to get photographed is, well, perhaps just a little too attention seeking. What will you be wearing next, her wedding dress?
Nevertheless, Pippa did look rather nice in the red version of the dress whilst at the wedding of her friend who she used to go to University with. She teamed it with the almost obligatory English wedding flowery fascinator, a clutch purse, and some black heels. Unfortunately for Pippa though, the outfit was missing that blinging zillion pound engagement rock which Kate cleverly matched to her version of the dress.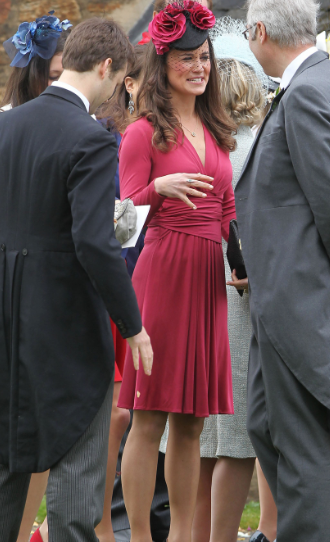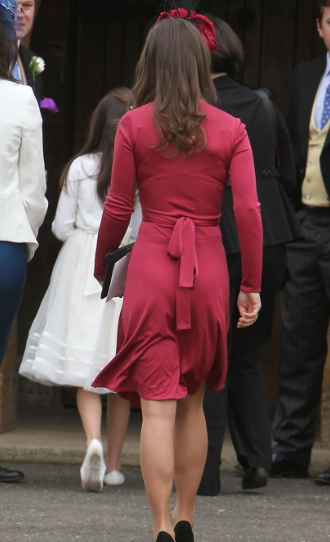 Images: WENN.com, Daniel Deme/WENN.com