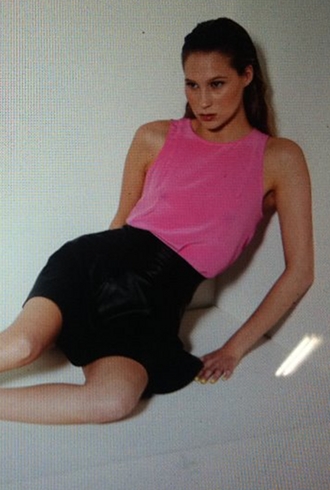 White Suede is a brand with a penchant for polar opposites. Heading up the label is husband/wife duo Jacqui Demkiw and Paolo De Marco, who draw inspiration from architecture, artwork, and photographic imagery to create their striking sculptural, feminine designs.
For the pair's newest offering they've once again evoked contradictions. 'Futuristic Vision' sees designer Jacqui Demkiw's own modern innovation manifest itself in sharp, architectural silhouettes incorporating refined peplums and neat shoulders (the sort that even men might appreciate while they silently savour the demise of exaggerated power shoulders). These stronger shapes are set against silky drapery, another of Demkiw's fortes, most effectively seen in body-con dresses that bind the wearer's body like high-fashion bandages.
Further tasteful clashes are achieved through colouration, with vibrant neons and strong digital prints going head to head with more subtle hues.   
One thing you won't find contradictions in is Demkiw and De Marco's sense of conscience. The majority of their pieces are still produced in Australia, and the majority of those are available only in limited edition.