Bassike is back doing what they do best for Resort 2012, serving up a hefty slice of luxe minimalism swathed in crisp masculine tailoring. During tough times for young fashion labels, Bassike has gathered a finely-clad army of followers willing to fork out for staples of a certain caliber, and this collection is a prime example of why people are willing to do so.
The base of Bassike is always a neutral. This time it's a White Void Room; white infiltrated by black, yellow, and a pink that can't be more than three squares from white on any given colour chart. There's also a snakeskin print that crops up on loose elasticated trousers and oversized masculine separates, and most impressively on a pleated one-piece that makes a boiler suit look like a wardrobe staple. And we're willing to hazard a guess that Miranda Kerr and SJP have already put their orders in for a few of those effortless singlets and tees. 
Not helping us refrain from doing something similar is bona fide ANTM success story Montana Cox, who last week was busy nailing it in Paris by walking a total of nine runway shows including Chanel, Carven, Mugler, and Tom Ford. If we lose her tomorrow thanks to the monetary lure of massive overseas contracts we'd be pretty happy with this lookbook being her curtain call.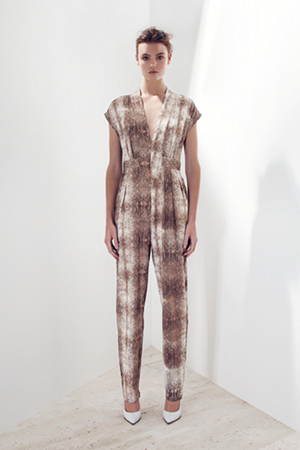 Images via Bassike.com