American retailer Target has been showing a lot of Canadian love recently, with its TIFF pop-up hotel and media haven at Toronto Fashion Week. Still, the publicity is kind of expected given that, come Spring 2013, the retailer is planning to open its first stores this side of the border, taking over any old Zellers' haunts and throwing down a few extra red dots across major cities (four locations will open in Toronto in alone). It's a highly anticipated immigration, especially given that we Canadians have so far been barred from purchasing all that coveted Target x Designer merch, like the Missoni or Neiman Marcus collabs. Sigh.
But let's turn those frowns upside down because Target is finally on the horizon, pulling some new collaborations and labels from emerging Canadian designers in tow. You see, Target is teaming up with the Toronto Fashion Incubator and its New Labels Design Competition, which gives budding designers a chance to create a line to be sold exclusively at its Canadian stores in 2014. What's more, the TFI New Labels winner will receive a $25,000 cash award from TFI supporter and philanthropist Suzanne Rogers, as well as a full-page editorial feature in Flare magazine. 
"The main thing here is that these young designers really need help in the early years. Target is a respected retailer and to have this opportunity for the winner is really going to benefit the award recipient," Rogers said in a press release.
The competition has been featuring the hottest up-and-coming design talent in Canada since it first started in 1992. Last year's winner was Edmonton native Sid Neigum, whose androgynous looks have gone on to find favour at many Fashion Weeks.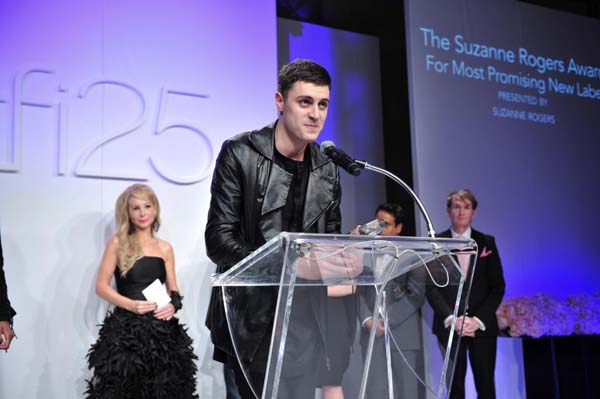 Pictured: Last years' winner Sid Neigum at TFI's 25th anniversary gala.
"We are always looking for ways to elevate the competition, and we are thrilled to have Target on board to support New Labels this year," said Susan Langdon, executive director of the not-for-profit TFI. "With a guaranteed in-store collection on the line, the stakes are even higher for our young designers. Target is known for their exclusive designer partnerships, and we are so pleased to be able to be able to give one of our own such an amazing opportunity. These young Canadian designers are hungry and they're hungry for recognition, hungry for attention and hungry to have retailers notice them."
Are you one of those hungry designers? If so, I recommend you visit the TFI website and request an application stat! They're also running a one-day seminar this Wednesday so you can get all the insider details on putting together a winning collection. What are you waiting for?
Image via FashionIncubator.com