Leave it up to the three sisters behind Manning Cartell to stuff as many of next season's trends into one hospital-grade clean collection.
A heavily ornamented middle finger to the Australian summer heatwave, AW2013's lookbook is a pretty good roundup of everything you should be looking forward to when the temperature drops below 20. Matchy-matchy suits? Check. Man-sized coats that seem to defy gravity? Check. Prints that remind you of both geometry lessons and art class? Check and check. White after Labour Day? Why the heck not, especially if it's trimmed with blingy gold zippers that may or may not serve any utilitarian purpose.  
Other things guaranteed to get you noticed include a sequin jacket and two pairs of killer leather pants. The sleek, skinny black ones are Manning Cartell at their uncomplicated best, while the maroon ones are the best thing to ever feature leather, drawstring and elastic all at the same time.
The last six months have been big for the Manning Cartell sisters. They gave their Strand Arcade store a slick revamp to celebrate five years in the business in August, and six-handedly made "bridesmaid dress" a less anxiety-ridden term by launching a line just for the ladies of the bridal party. This latest collection is a pretty great example of how they're able to do so much while looking like they're really not doing that much at all.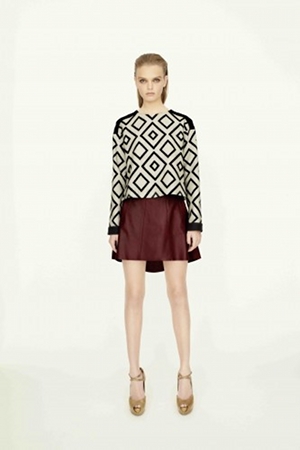 Images: 10Magazine