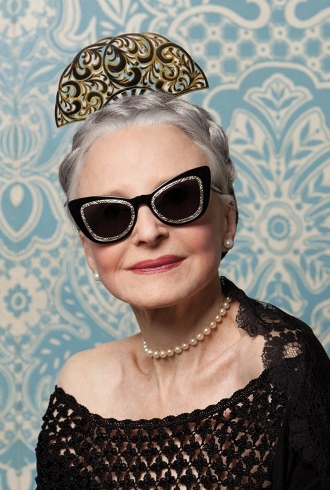 New Zealand designer Karen Walker always comes up with the coolest campaigns for her wildly popular eyewear range, and this season is no different. For her latest collection, she's teamed up with Ari Seth Cohen of the equally fantastic Advanced Style blog, who cast four of his favourite ladies to front the Spring 2013 campaign.
Joyce, Linda, Lynn and Illona, aged between 65 and 92, were shot in their own New York City apartments wearing KW shades paired with a bunch of "model's own" statement accessories. The collection itself is an attention-seeking mix of oversized geometric shapes and contemporary materials. Giant circles, modernised cat eyes and angular squares are rendered in lucite, tortoiseshell, candy-hued pastels and even glitter. Impeccable styling matches each pair to its model's dazzling sense of personal style.
It's a great way to show off the range, which is a prime example of the designer's ability to consistently be fun and eye catching while remaining timeless and a little bit sincere. It also provides a very compelling reason to treat yourself to a new pair of shades, because you know you'll be wearing these ones for many decades to come. 
See the full campaign over on Ari's blog.
Images: Advanced Style