Around this time last Fashion Month, she was busy dominating minds and runways (predominantly Marc Jacobs') as a modern day Edie Sedgwick, and now Ruby Jean Wilson is being equally easy on the eyes as a Nick Cave-inspired androgyne on the pages of Russh.
February 2013 marks the magazine's 50th issue, and to celebrate the milestone, they've put together an ode to film and film icons.
The brown-again blonde-again Aussie model is brown again for the tough yet polished spread, which shows off the styling chops of fashion and beauty editor Billie Iveson. Ruby is striking as a youthfully morose post-punk legend untouched by the harsh realities of balding and social media, posing in crisp white shirts, braces, waistcoats and leather.
Hairstylist Renya Xydis is also deserving of props for Ruby's waxy mohawk. We love Ruby as a blonde as much as we love her as a brunette, but a little styling product is no doubt far better for your tresses than copious packets of bleach. It should also help Ruby score points in the impending winter campaign war, although the model has been a lot less visible on this season's runways than she was on the last one's. Nick Cave's own dearly departed hair will certainly be reeling either way.
Russh's 50th issue also features a slightly NSFW shoot with the newly engaged Bambi, and is on shelves in Australia now.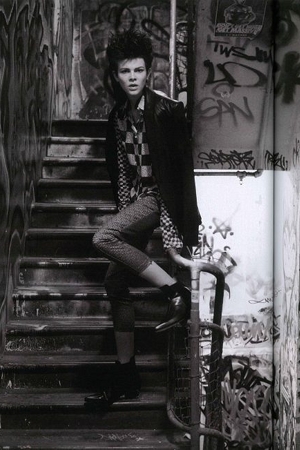 Images: Priscilla's Models blog