There's always a small amount of buzz whenever a plus-sized model lands a fashion first. Excitement is mixed with the disbelief of naysayers who question whether anyone beyond a size 0 belongs in the industry. Boo-urns to them. Making baby steps this month, Elle Quebec is featuring their first plus-sive cover model, Justine Legault.
Joining the slow-blooming renaissance in plus-size modeling, Justine Legault is quickly taking the fashion world by storm with her  5'9" and a U.S. size 14/16 frame. But size aside, she's a real stunner with an admirable attitude to boot. Her pictorial has her suggestively flashing her thighs in a barely-there white shirt dress, blonde hair styled in natural waves, with a smouldering green-eyed stare popping from the page. In another photo she dons a coral colour dress with her hair slicked back and her bright lips daring to rival Georgia May Jagger.
A Quebec native, Justine — whose dream was once working behind the camera — was given her first break at the age of 20 by an agency looking for a plus-size girl. In her cover interview with the mag she recalls, "'At my first photo shoot, I remember hearing the photographer call my agent on the phone and say, 'Oh my god! We've got something here!'"
But the path to an Elle Quebec cover hasn't been easy and Justine has been dealt with fair portion of criticisms: "How many times have people told me during an audition: 'I don't like your hair, I don't like your teeth…?' I didn't listen to those people and I continued to have confidence in myself. I prefer to remember compliments from people who like me how I am, and believe in me."
Still, she continues to break ground in the industry, all with a casual confidence and sense of humour. When asked about her beauty regime, she matter of factly replies, "My beauty regime is similar to that of other models. Except that I love a good meal and I eat very well!"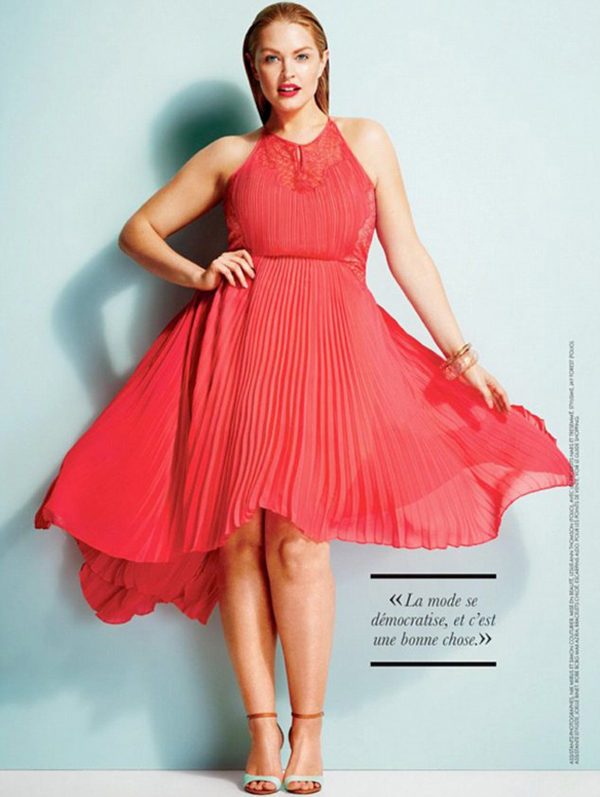 Images via Elle Quebec