Fashion conscious British swimmer, Rebecca Adlington, won two gold medals at the Beijing Olympics and famously treated herself to a new pair of Louboutins right afterwards. This year, she's reportedly announced that she will be rewarding all of her hard work at the London games with a new Chanel handbag. A girl after our own heart!
Kate Middleton's Shoes
After watching their cousin Princess Zara take part in the eventing team jumping final and scoop a silver medal, Princes William and Harry, accompanied by Kate Middleton, descended upon the Olympic village to congratulate team GB for their hard work. Rather than discuss her new bronze medal with the Royals, Rebecca Adlington was too distracted by the Duchess' shoes, and felt compelled to ask who designed them. Kate was, in fact, wearing a pair of blue cork wedges by Stuart Weitzman for Russell and Bromley, which retail at £245.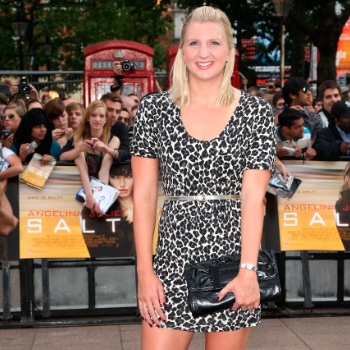 Nail Art
It's not just Rebecca's love for shoes which has caught our attention, but also the wicked nail art which she's currently donning. As she was rewarded with her bronze medal this week, she showed off her cute Union Jack painted nails. Inspired by Rebecca's nails, we made it our personal mission to find a decent nail art stockist, and discovered sparkly-nails.co.uk. They sell everything you need to recreate the British flag look and a whole lot more. 
Images: Supplied by WENN.com