The Best Yarn For Crocheting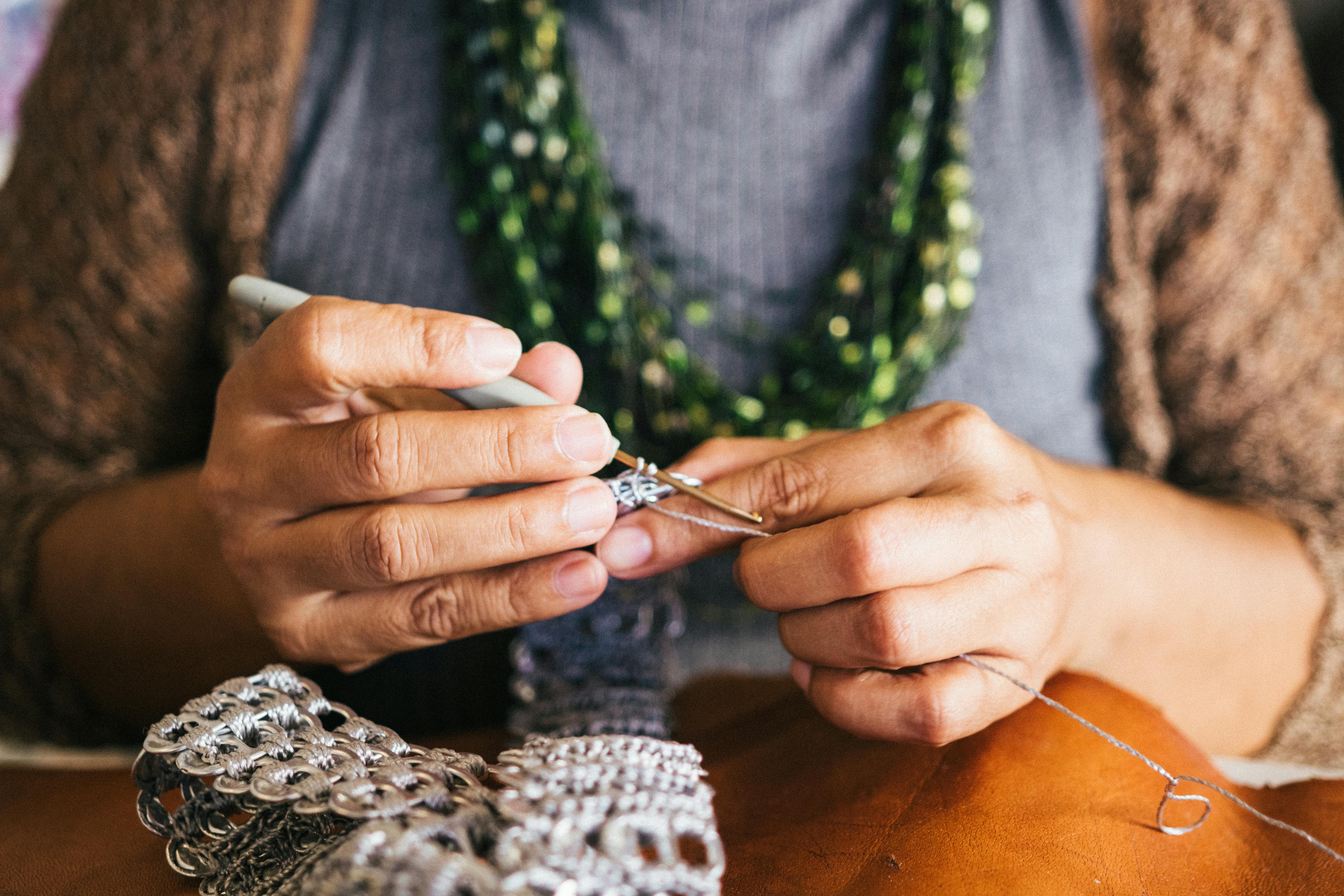 The perfect hobby for those who love to create something from scratch, crocheting allows you to transform simple skeins of yarn into everything from scarves and sweaters to blankets and toys. To get started, finding the right kind of yarn is integral. For beginners and experts alike, there is a wide range of materials and styles you can use that will impact your final product. Discover our top picks that will help you bring a wide range of patterns to life.
Red Heart Super Saver Yarn
This easy-to-use acrylic yarn makes crocheting easy, even for beginners.
Made from 100% acrylic, this yarn is a medium-worsted material suitable for both beginners and professionals. The worsted style ensures that it's thick and dense, making it perfect for everything from toys and blankets to wearables like hats and scarves. You can choose from dozens of solid colors and patterned styles to find the perfect option to bring your creation to life.
Pros:
The colors look very similar in real life as they do online, ensuring you get the shade you expect
It's affordable, so it's perfect for larger projects or for beginners who don't want to make a big investment
With dozens of colors and patterns to choose from, you can always find the right shade
Cons:
If the thread is pulled in the wrong direction, it may split
The yarn is softer and a bit scratchier than other similar materials
Mira Handcrafts 24 Acrylic Yarn Skeins
This set offers yawn in a variety of vibrant shades to bring your creations to life.
This rainbow set of 100% acrylic mini yarn skeins gives you dozens of colors to choose from. Perfect for pompoms, amigurumi, or granny squares, the folded yarn is the ideal starter kit for beginners. It also includes two crochet hooks, two weaving needles, and seven e-books full of yarn patterns. That way, you'll have everything you need to get started as soon as it arrives.
Pros:
From black to blue to green to pink, the set has 24 vibrant shades across the color spectrum
The 100% acrylic yarn is durable and holds up well for a variety of projects
It comes with hooks, weaving needles, and patterns
Cons:
Because the skeins are mini, you don't get a lot of yarn in a single color
The yarn is inconsistent and can be patchy
Yarn Art 55% Cotton 45% Acrylic Yarn
This cotton and acrylic yarn helps you bring your vision to life.
This classic yarn doesn't stretch, molt, or form pellets, so you can make beautiful creations ranging from sweaters to scarves to blankets. The cotton and acrylic combination makes it easy for both beginners and experts alike to use. It's rich in color to give you a beautiful final product, and it's offered in a huge variety of different colors, so you can always find the shade that you need.
Pros:
It doesn't pill or sag, so your project stays looking like new
The color online looks true to real life
It's easy to use, so it's ideal for beginners
Cons:
The skein isn't very large, so you may need to buy a few to finish your particular project
Most of the available colors are very muted, so it may not be the right option for vivid or neon shades
Lion Brand Yarn Comfy Cotton Blend Yarn
Instead of solid colors, this patterned yarn creates a dynamic finished product.
Perfect for everything from warm-weather tops to baby gifts, this yarn is soft and easy to work with. With a blend of several different shades to give it a multi-dimensional and dynamic look, it adds visual interest to designs — even those with basic patterns. The large, 200-gram skein has enough yarn to make a small blanket or scarf, and it can even be washed and dried for super-simple maintenance.
Pros:
The size is consistent throughout the skein for a more uniform stitch
It's a center-pull skein, which makes it easy to work with
The multi-colored design helps to add dimension and depth
Cons:
The strands are a little loose, which can make it harder to work with
Some of the colors look different in person than they do online
Tehete Merino Wool Yarn
This Merino wool, nylon, acrylic, and viscose blend offers unbeatable softness and shine.
With unparalleled softness and breathability, Merino wool is the perfect option for everything from sweaters to hats. It's very lightweight and easy to work with, allowing you to use it for endless patterns and projects. Available in a range of beautifully saturated yet muted shades, this yarn ensures that you can create classic items that will stand the test of time.
Pros:
It's incredibly soft, which makes it perfect for wearable projects
You can order everything from a single ball up to packs of 12 depending on the quantity you need
The yarn is richly pigmented for a vibrant look
Cons:
To knit a medium-sized sweater, you need at least six skeins of yarn, which can get expensive
It has less color variety than other yarn
Frequently Asked Questions
Does crocheting use more yarn than knitting?
On average, crocheting takes about 30% more yarn than knitting a similar design. As a result, yes, it uses more yarn than knitting.
What type of yarn is best for crocheting?
Acrylic, wool, and cotton yarn are the best options because they have a uniform thickness and are easier to work with, especially for beginners. They're also more affordable than other types of yarn.
Is it hard to learn to crochet?
Learning to crochet is easy. You should start with the basic stitches, and then can move on to more complex stitches. Mastering the different stitches takes time and practice, but it isn't challenging to learn if you are committed.