The Top 5 Blazers for Men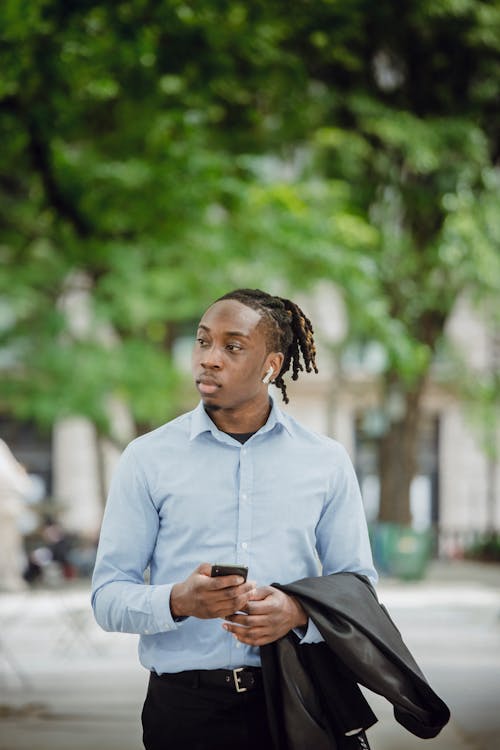 Okay guys, listen up. Get yourself a proper blazer. Don't just get it though, make sure you wear it. Why? A well-fitting blazer makes us women swoon. It's a timeless look and shows the world that you care about how you present yourself. Whether you're taking us out for a night on the town, to your best friend's wedding, a work event, or wearing one over a T-shirt on a video call, blazers for men are the fashion piece every man should own. A little confused on where to start? How about right here, with this list of our favorite options. Seriously, we've got 5 of the best and for whatever occasion, we think you'll agree.
COOFANDY Men's Casual Blazer
Our pick for the most handsome blazer for men.
If you want the blazer that can do it all, this blazer for men from COOFANDY is quite honestly the one you're going to want to do it all in. Seriously. It's fitted, understated, and can be dressed up or dressed down. It features a one-button closure, a notch lapel, and a left chest pocket. Worn with the proper accessories and clothing items, this blazer for men screams well-dressed yet up for anything. Basically, it's the blazer that you'll consistently find yourself going to in your wardrobe; the one for almost every occasion. You'll feel comfortable, you'll feel confident, you'll feel like this blazer creates an image that's authentic, stylish, and well-dressed. And with multiple colors to choose from, you can even feel a little fun.
Pros:
Soft, well-fitting poly-cotton blend.
Appropriate for just about any occasion.
Extremely comfortable fit.
Multiple pockets that are all real, not just for show (you'd be surprised at how often this is an issue).
Cons:
Runs a bit on the slimmer side. You might need to size up.
Calvin Klein Men's Slim Fit Suit Separates
At once trendy and timeless, this blazer for men is a top contender.
Perfectly appropriate alone or as a suit, this slim fitting blazer hits all the high-fashion style points you've been wanting in a more dressy blazer for men. Made mostly of wool (94% wool, 6% lycra spandex), this suit coat has impeccable fit, style, and craftsmanship. Whether you need the whole shebang or just the blazer, this look can be worn separately or as an entire perfectly-fit suit. Wool wicks moisture so regardless of the event or time of year, you'll feel comfortable and classy.
One of the issues with cheaper, lesser-quality fabrics is that the blazer just won't hold up over wear and time and washings. With this blazer, for men that wear one frequently, you'll find that it retains its shape well, the quality of the fabric maintains its integrity, and the feel and fit just seem to get better with every washing.
Pros:
Just enough stretch to take it from stuffy to comfy.
True to size fitting.
High-quality fabrics that hold up well.
Cons:
Although wool is moisture-wicking, this is a bit heavier of a blazer.
Amazon Essentials Men's Long-Sleeve Classic-Fit Button-Front Stretch Blazer
A truly nice blazer that's budget-friendly, too.
Most Budget Friendly Blazer
Sometimes you just need a blazer that'll look good, feel good, and won't break the bank. We get it. Between the pants, shirt, tie, cuff links, and blazers, for men, dressing up can be an expensive undertaking. That's where this classic-fit, two-button closure blazer from Amazon Essentials comes in. It's an everyday blazer that pairs well with jeans or dress pants, from more casual events to classy affairs. And with three classic color choices, an unbeatable price, and a great fit, you can snag a few at a time to effortlessly diversify your wardrobe.
Pros:
Mid-weight fabric that works well for all weather.
Machine washable.
3 simple, understated colors to choose from.
Cons:
If you're looking for more vibrant colors, these shades are muted.
Cloudstyle Men's One Button Daily Blazer
For a casual blazer that works with every occasion, look no further.
Aptly called the 'Daily Blazer', this trendy yet classic coat kicks things up a notch yet still keeps it simple enough for an easy toss in the wash after wear. With a contrasting pocket for a sharp, effortless look, the modern style of this blazer really will take you from the office to a date night. Mostly, what makes this such a favorite around here is the contrasting style elements of this laid back-yet-refined blazer. The one button style makes wearing this feel breezy and carefree, yet at the same time, the cut and feel make this an ideal coat for dressing-up. It's a beautiful, casual blazer for men that is essential to keep in your wardrobe rotation.
Pros:
Machine washable.
Slim fit.
Suitable for multiple occasions.
Cons:
While blazers for men should be slim-fitting for a fine fit, this jacket fits a bit smaller than expected. It's recommended to size up.
Cloudstyle Men's Notched Lapel Blazer
Want a unique, stylish blazer that makes a statement? You'll love this one.
Another favorite from Cloudstyle, this notched lapel blazer is anything but plain. Made with a hot stamping printing process, this unique coat is The Blazer for men who like to make a statement. Made with a poly-viscose blend, the gorgeous print on this coat works as well in a casual setting as it does in a black-tie event.
Some of the key features that make this a show stopping blazer: its slim fit is ultra-flattering, its single-breasted, notched lapel are classic, and its vented center make it comfortable to wear even on hotter days. It's a simple fit, yet with the stamping print pattern, it's everything you need in a blazer to make an entrance.
Pros:
Excellent blazer option for men that want a little something extra in their dress wear.
Fitted blazer (runs a bit small) that has a flattering cut.
1-button closure.
Cons:
Frequently Asked Questions
How do you properly measure blazers for men?
While it's definitely recommended to get professionally measured, if you're in a bind and need to order a blazer immediately, it is entirely possible to correctly measure yourself for a blazer. To start with, measure your chest just under your arms and across your shoulder blades. Don't suck in, continue breathing, and hold the tape level. You want it to be an accurate measurement of your chest, or it'll likely fit too tight and be incredibly uncomfortable and ill-fitting. Blazer sizes are equal to your chest size, so the inches measured here directly translate to the size you'll need.
How do you properly wash a blazer?
Typically, dry-clean only is the way to go for washing your blazer. However, your blazer should come with a tag and washing instructions, so it's best to follow instructions of your individual blazer. It's possible to find a more casual blazer that allows for machine washing. Some more delicate fabric ones require hand-washing.