The Top 5 Earrings for Sensitive Ears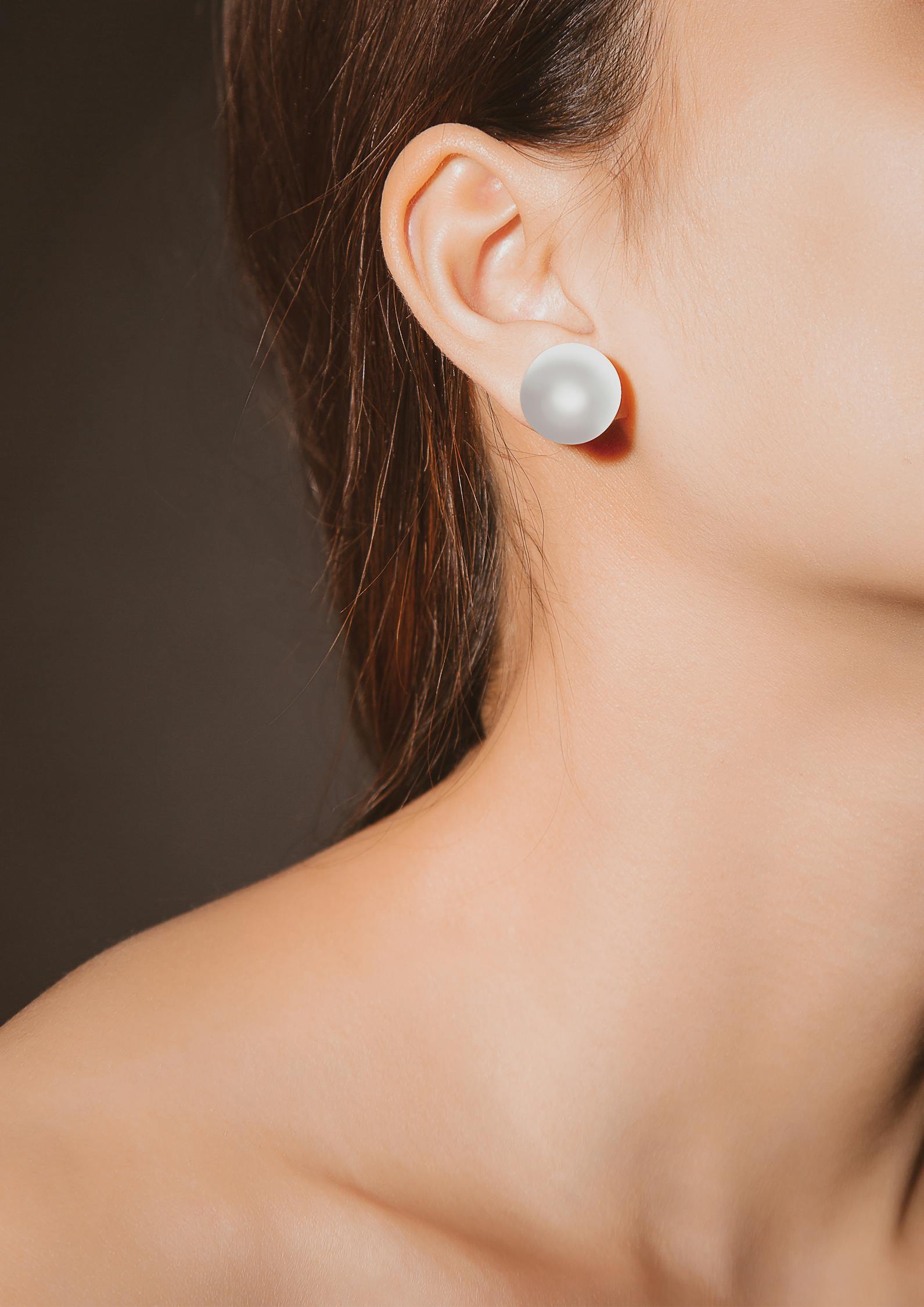 Earrings are a fun, stylish accessory that can go along with any type of outfit. Unfortunately, for those who have sensitive ears, finding a stylish, yet non-irritating pair can be a challenge. The top five pairs of earrings for sensitive ears are reviewed below, so you can find a pair that's both cute and comfortable. Ready to find your next favorite pair?
Stunning Flame 18k Gold Plated Stimulated Diamond Stud Earrings
These stimulated diamond studs are made of the very best material for keeping sensitive ears comfortable, and they're simply stunning as well.
If you struggle with sensitive ears, these are almost guaranteed to leave you without discomfort. Some hypoallergenic materials are better than others, and 18k gold is one of the best. These earrings for sensitive ears are made from 925 sterling silver (another material that is great for sensitive ears) and coated with 18k gold. The back of the stud is designed to be round and smooth, both so it'll be comfortable sitting against your earlobe and so it'll provide the perfect stud earring look.
The stone in these earrings is a stimulated diamond. Stimulated diamonds look extremely similar to real diamonds, and they are fairly easy to care for. The only thing you'll need to know is that if they start looking a bit cloudy, they could use a cleaning. The stones are set in a three-prong style, so they can be seen from more angles and so they provide additional shine.
Pros:
Best material for sensitive ears
Comfortable design
Beautiful, shining, and easy to care for stimulated diamond
Cons:
These have a fairly high price point compared to the products reviewed below
UHIBROS Women's Hypoallergenic Stainless Steel Stud Earring Set
These amazing studs are made from an excellent hypoallergenic material, and they come in a set with six different stud sizes.
If you're looking for a style that's similar to the set of stud earrings shown above, but you're also wanting more for the price, this set may be perfect for you. It's a set of six pairs of diamond-like studs in varying sizes (from 3mm to 8mm in diameter). The stones are Cubic Zirconia, a popular and affordable diamond alternative.
These earrings are made form surgical stainless steel, which is a material that most people with sensitive ears do well with. They are guaranteed to never rust or tarnish, so you'll be able to enjoy the set for years to come. They even come in a free velvet box, so you can keep your collection organized and protected.
Pros:
Affordable price point
Beautiful stones
Made form surgical stainless steel
Cons:
It's not very common, but stainless steel can affect some people with extremely sensitive ears
Cocadent Big Hoop Earrings for Sensitive Ears- 3 Pairs
These earrings give you that classic hoop style without the typical irritation.
Hoop earrings are a classic style. They're also something that you may relate to pain if you have sensitive ears and have worn a normal pair of hoops in the past. Luckily, this set of hoop earrings is made to be non-irritating. They are plated with 14k gold, one of the best materials for sensitive ears.
This set of three comes with a silver, a gold, and a rose gold pair of hoops. They have an easy closure design that makes putting them on and taking them off a simple task. They even come in a complimentary gift bag and have a 100% satisfaction guarantee, so you can try them risk free.
Pros:
Coated with 14k gold
Comes in a set of three different colors
Affordable price
Cons:
Some reviewers report receiving two of one color, instead of one of each three colors
PAVOI Sterling Silver Handpicked Freshwater Cultured Stud Pearl Earrings
These freshwater pearls are simple and cute, and they're made from a comfortable material.
Pearls are another classic style that you don't have to go without just because you have sensitive ears. These pearls are handpicked from freshwater areas and turned into beautiful pieces of jewelry. You can choose the size of pearls you'd like, from 5.5mm all the way up to 11 mm.
These studs are made with 925 sterling silver and a rhodium plating. They come with a 90 day, money-back satisfaction guarantee, and they are made in the United States.
Pros:
Timeless style
Made from hypoallergenic material
Come with a 90 day guarantee
Cons:
These have a slightly higher price than other hypoallergenic earrings
hefanny Hypoallergenic Statement Earrings- 8 Pairs
This set of statement earrings has a unique and fun style, as well as a non-irritating fit.
Fun earrings for sensitive ears are hard to find. Luckily, this pack of statement earrings has you covered. It include all sorts of styles, from Vintage to Bohemian to earrings for formal events. They're all dangly and unique, though, and they're most definitely fun.
These earrings are made from a a hypoallergenic alloy. They are also made from environmentally friendly materials, so they're a great choice if you're trying to stay "green" with your purchases. Lastly, the price is exceptional for a set of 8 pairs of stunning statement earrings.
Pros:
Fun and unique style
Comes with 8 pairs of earrings
Includes multiple styles
Cons:
These earrings do not share exactly which alloy they are made of, so they may not be the best choice for those with extremely sensitive ears
Frequently Asked Questions:
Q: What Materials Should be Avoided for People with Sensitive Ears?
A: The one material that causes the most reactions for people with sensitive ears is Nickel. Nickel is a low-priced metal, which is why it's commonly used to make jewelry. Unfortunately, it's also a material that many people are allergic to. If you have had reactions to earrings in the past, you'll want to avoid nickel earrings (as well as any alloys that contain nickel).
Q: My Ears are Still Bothered by Hypoallergenic Earrings. What Else Can I Try?
A: Some people's ears are more sensitive than others. If you try a pair of sensitive earrings and they still bother your ears, check the material they are made of. As mentioned above, don't use anything that contains nickel. Then, you may want to avoid any material in the earrings that have bothered you (as you may be allergic or sensitive to that specific metal). If you've reacted to multiple types of metals, your best bet is to try something plated in gold or platinum, or a pair made of sterling silver. Stainless steel is a good option as well, though it does cause reactions in some people.
Sensitive ears can often be a hassle, but they don't mean you need to turn away form earrings forever. Look into the earrings for sensitive ears above, and choose the pair that you like best. Consider the style, the material they are made of, and the materials that you've reacted to in the past. By keeping these things in mind, you'll be able to find the perfect pair of earrings for your sensitive ears.