The Top 5 Walking Shoes For Women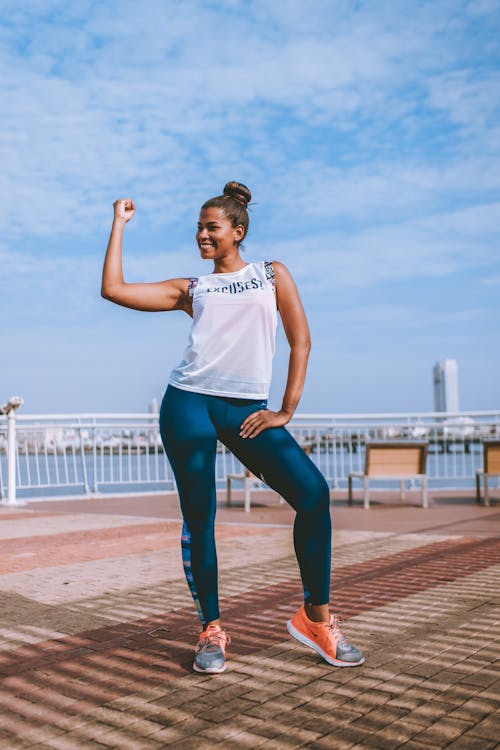 When it comes to walking shoes, for women that walk frequently--or want to make it a habit--comfort and durability are two of the most important factors in quality walking shoes. After all, there's nothing worse than spending a chunk of cash on a pair of shoes that just don't fit well or fall apart after a few sweaty strolls (or worse...both). It's why we've done the work and found these next 5 shoes for you to choose from for the best walking shoe out there. Walking is a fantastic way to let go of stress, improve your overall health, and get outside. It's time to invest a bit into what goes on your feet to help make a walk a long-lasting habit of yours. It's something we've been hard at work on over here, too. So trust us when we say, your mental health and well being will thank you.
Skechers Women's Go Walk Joy Walking Shoe
Skechers has it right with the name of these shoes--they really are a joy and comfort to walk in.
At once comfortable, lightweight, flexible, and trendy, this ultra-responsive walking shoe really is a joy to walk about in. Whether you're just strolling along city streets or truly out for a sweaty workout-out walk, this walking shoe from Skechers hits all the must-haves. First, Skechers has created a specialized insole, dubbed the Goga Max high rebound insole, and that, combined with the Parametric cushioned 5Gen midsole, you'll be extremely comfortable mile after mile.
With multiple fun colors to choose from, you'll be hard pressed to stick to just one pair of shoes. At a more budget-friendly price point, perhaps you won't have to.
Pros:
Easy slip-on style walking shoe.
Durability and comfort in a walking shoe that's trendy enough to wear around town, too.
Lightweight and breezy.
Cons:
If you need a little more support with the customization offered with laces, this shoe isn't the one for you.
New Balance Women's FuelCore Nergize V1 Sneaker
These breezy, lightweight shoes make you feel energized the moment you slip them on your feet.
New Balance has been the name of the game for quite some time. And with these walking shoes for women, they've done it again. The FuelCore Nergize offers excellent midsole cushioning, featuring the REVlite midsole that New Balance walking shoes have become known for. Lightweight and highly responsive, you'll feel the pick-me-up the second you slip these sneakers on your feet. The NB Memory Soap Comfort Insert takes it all up a notch further; you'll feel like you're walking on clouds even on your longest walking days.
Pros:
Sleek and supportive, this walking shoe feels snug and breathable at the same time.
Large selection of colors to choose from.
Durable construction that New Balance are known for.
Cons:
If you like a jog or run mixed into your walking routine, these are definitely suited more for walking as opposed to a cross trainer.
New Balance Women's 608 V5 Casual Comfort Cross Trainer
Need a comfy walking shoe and cross trainer? These New Balance Shoes will do the trick.
We told you, New Balance knows what they're talking about. Love the feel of the ones above but want more of a cross-trainer? Here you go. The 608 V5 Casual Comfort Cross Trainer will take you from the gym to the city streets to a walking commute to work. Made from 100% leather with a rubber sole, you'll have a shoe that lasts through it all. The ABZORB Technology, you'll be comfortable the entire time, too.
While we do appreciate the durability of these shoes (they'll outlast other shoes of similar style), they are a bit heavier.
Pros:
Flexible outsole made of 100% premium leather.
Great for tougher walks (the ABZORB crash pad helps with higher impact training).
Lace up shoe for customized fit.
Cons:
Not many color choices to choose from.
HKR Women's Walking Shoes
We love these mesh slip-ons so much, we want one in every color.
Slip on these mesh walking shoes for a breezy, energetic walk. Ultra-light, these shoes are insanely breathable and comfortable for those walks on hotter days. Made in a slip-on style with no laces, these walking shoes still offer plenty of stability and support with a non-slip rubber patch, contoured fit, and flexible soles. With an air cushion, anti-skid sole, a responsive EVA insole, breathable and removable mesh insert, and a sock-like upper, your feet will thank you from the starting line to the finish.
Pros:
Variety of colors available.
Mesh is best for breathability, an excellent choice if your feet tend to sweat.
Memory foam insole.
Cons:
A bit on the slimmer side, these shoes don't really work the best for wider feet.
Skechers Women's D'Lites Memory Foam Lace-up Sneaker
These walking shoes for women offer the best of both worlds: they're both supportive and trendy at the same time.
These memory foam, lace-up sneakers from Skechers are the most comfortable walking shoes on the block. The rubber sole, coupled with a leather and synthetic upper, make these a stable option for those that need a little bit more support. Although these shoes appear chunkier, the 1.25 inch built-in heel isn't heavy or bulky to walk around in. Instead, it provides a little extra stability and comfort. Combined with a trendy, stylish look, we guarantee you'll love this women's walking shoe for more than just walking.
Pros:
Flexible sole.
Multiple color choices.
Fits true to size.
Cons:
Insoles are not removable.
Frequently Asked Questions
How often should I replace walking shoes?
Although it totally depends on the amount of miles you put in and the type of walking surface you find yourself on, it's a good general rule to follow to replace your walking shoes every 6 to 9 months, or after 1,000 to 1,500 miles of walking. If you find yourself wearing your shoes for other activities or around town, you might find that you need to replace them sooner. Although your shoes might appear still new at this point, the integrity of the sole breaks down over time, rendering a shoe less supportive. This can lead to injury if you don't replace them when necessary.
What type of shoe is best for my level of activity?
The best type of shoe for you depends on a few factors. First, you'll need to think about where you find yourself walking the most. What type of surface is it? If it's a rockier, trail walking experience, you'll want one that's responsive, durable, and with a meatier sole to aid in cushioning. If you find yourself hitting the pavement, a lightweight shoe is just fine. After assessing the type of surface you most walk on, you'll need to think about your body type and foot type. If you have knee problems, for example, you might want a shoe that offers gel inserts and extra support. For arch issues, an insert or insole that works well for your particular foot is key. It might help to assess your gait, feet, and needs with a shoe fitting expert to discover the best type of shoe for your lifestyle.