Top 5 Kimonos for Women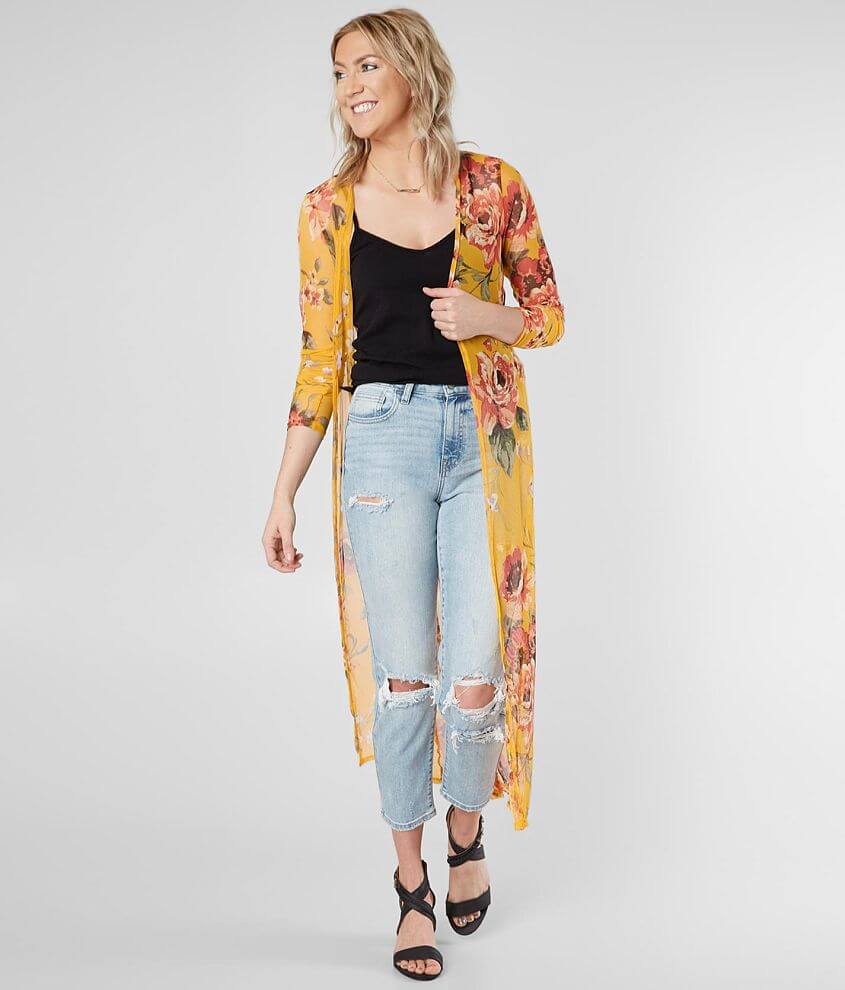 The Kimono is a robe traditionally worn in Japan, beautifully and intricately designed. Today, the kimono style has been brought into modern fashion. You can get more traditional options or new cardigans and cover-ups modeled on the elegant and beautiful originals. If you need help finding the right kimono to fit your style, we can help. Here are the top 5 kimonos for women.
CCcollections Long Kimono Robe
Wrap yourself in sensual style and extreme silkiness.
The CCcollections Long Kimono Robe is a beautifully designed and intricately detailed example of what a modern kimono is. It brings together the elegant and traditional styles of Japan to modern times. In addition, the lightweight fabric is silky and smooth. You will truly enjoy the comfort while also loving how it makes you feel.
This kimono robe is perfect for bridesmaids, Valentine's day, or even daily wear. It is sexy, comfortable, and affordable. Now, check out these pros and cons.
Pros:
The material is silky and very soft
Price is affordable
Available in 14 different traditional prints
One size fits most
The sash holds it well
Cons:
It is not available in plus sizes
Durability is questionable
Chicgal Puff Sleeve Kimono Cardigan
A beautiful choice no matter where you take it.
If you are on the hunt for a lightweight and stylish cardigan that shows off your unique style, the Chicgal Puff Sleeve Kimono Cardigan is just what you are looking for. It drapes across your body effortlessly. You can use it to hide any imperfection while also accentuating the parts of your body you love. Wear it for any occasion as it is easily dressed up or down.
This kimono cardigan is available in many different colors and prints so you are sure to find one you love. Meanwhile, take a look at these pros and cons.
Pros:
Can be styled in many ways
Available in several sizes
Flowy and comfortable
Good choice for all year round
The colors are bright and fun
Cons:
No closures
Too sheer to be worn alone
OldShanghai Women's Long Kimono Robe
Satiny soft with intricate details in every stitch.
Some of us love a traditional kimono. The OldShanghai Women's Long Kimono Robe is the perfect example of that. This 100% satin robe is made with beautifully intricate details throughout while being machine washable for easy care. The closure is a sash at the waist that holds it firmly closed, however, you can also remove it when you would prefer to leave it open.
As if this kimono wasn't already high 0n your list, it also has a built-in pocket. We all love pockets. Here are some pros and cons to help you decide whether or not this is the right kimono for you.
Pros:
Choose from 14 stunning designs
Great attention to detail
Silky and smooth
There is a pocket
Waist tie closure can be removed
Cons:
Costs a bit more than the competitors
No plus sizes available
Olrain Women's Sheer Chiffon Loose Kimono Cardigan Cape
A sheer kimono cover-up that is both elegant and sexy.
The Olrain Women's Sheer Chiffon Loose Kimono Cardigan Cape is right at home at the beach or on the town. The sheerness of it makes it the perfect cover-up to your favorite swimsuit. In addition, you can wear it over a tank top with jeans for a casual boho look when you go out on the town with your friends.
Overall, this is a beautifully fashion-forward piece that you will love and use for many occasions. Now, check out these pros and cons while you decide whether or not you want to take this kimono home.
Pros:
Comes in many sizes
There are 33 color and print options
It is very versatile
The style is unique while not being gaudy and over the top
Great plus size option
Cons:
Handwash only
It is not as durable as we would like
Hibluco Women's Sheer Chiffon Long Kimono Cardigan
A lovely chiffon kimono cardigan that moves with you.
Everyone needs to have something long and flowing in their closet. The Hibluco Women's Sheer Chiffon Long Kimono Cardigan is exactly the right choice. In addition to being soft, long, and having that bohemian flair, it also comes at a great price. There are many print and color options available, as well.
This long kimono is great as a coverup for a beach, over jeans and a tank top, and can even be paired with a belt for a little formal flair. You will love it. Here are the pros and cons.
Pros:
Long and flowing
The material is silky and soft while still being durable
Choose from 40 colors and prints
Extended plus sizes are available
Versatile
C0ns:
The length can be a bit much if you are shorter than average
Too sheer to be worn alone
Frequently Asked Questions
What is a kimono?
A kimono is a traditional Japanese piece that translates to "something to wear". They come in many styles, although the most recognizable version looks like a long and intricately designed robe.
Why are there so many different kimono styles?
As fashion evolves, designers like to take pieces of the past and make them new again. People have been doing this with the kimono, as well.