It's London Fashion Week eve, and boy has London already been getting into the fashionable spirit. From launches to inspirational catwalk shows, we'll let you in on what we've been doing to warm up for our favourite time of the year.
Westfields' Fashion Weekend
Westfields London is one of the city's largest commercial shopping centres, complete with its own luxury designer village and just about every other leading high-street retailer which you could imagine. In order to whet our fashion week taste buds, Westfields has just finished celebrating its fashion takeover weekend, where we enjoyed professional catwalk shows, complimentary beauty makeovers, and also indulged in exclusive discounts in limited stores. Westfields is definitely worth a visit, and especially upon one of its fashion weekends. For visitors who aren't as trend aware, its catwalk shows really do nail the trends, and we enjoyed their showcase of the biggest trends for AW/12: Gothic, Digital Print, Metallics, Burnt Orange, and Gold Brocade. Plus, all of the items were available to be bought at Westfields — our poor credit cards!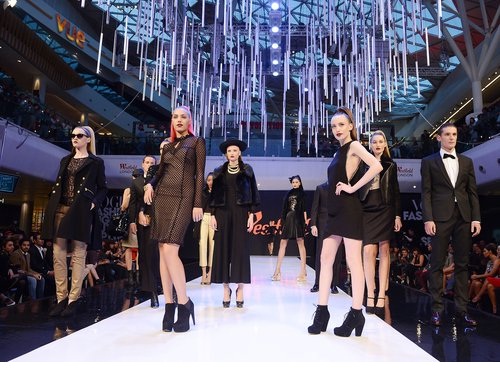 DASH Magazine Launch Party
If you're an artistic person and you love fashion, DASH magazine will be right up your street. This bi-annual (available every Fashion Week) London-based fashion magazine aims to mix the old with the new, and its competitive creative edge? Well, the entire magazine is innovatively built around fashion illustrations. The magazine only officially launched last season, and it's made such significant waves within the industry that it's already available to purchase worldwide, and better still, it was just awarded the prestigious Deutsche Bank Award for Creative Enterprises. This week, we went to its September issue's launch party at Press Play Films in East London, and this season its theme is to explore the architecture of fashion such as fashioning the front row. They've also managed to bag an exclusive interview with Jean Paul Gaultier, so, grab your copy now: fashiondash.net.
Carnaby Street's Shopping Night
Right on the eve of Fashion Week, London's iconic Carnaby Street decided to party with an exclusive shopping night with a 20% discount in most of its independent boutiques — exactly what the doctor ordered to help us look great during LFW. It was almost like Carnaby Street was having its own Fashion's Night out, as the area simply came alive with live performances, DJ sets, and complimentary food and drink. Associate Editor Robert Johnston from GQ magazine even fronted a pop-up shop where customers could enjoy a cocktail and listen to his style advice, trend talks, and expert tips throughout the night. 

Images: Zak Hussein/WENN.com, WENN.com