It's been a whirlwind week for designers and fashion-gazers alike as Toronto's World MasterCard Fashion Week finished up its final day of snow-capped tents, front row star-spotting and free manicures (I hope you had a chance to hit up the Maybelline installation for yours). But bringing the week to a climatic finale, Travis Taddeo, Thomas Balint, Stephan Caras and Pavoni all showcased their seductively dark wares to crowd-pleasing results.
Travis Taddeo
Rawness, simplicity and a hard edge was the name of the game for Travis Taddeo's enticing and darkly seductive Fall/Winter 2013 collection. As models strutted around the studio in Aldo shoes, black leather leggings, layered with black leather skirts (a recurring trend), black organza and mounds upon mounds of back fur, I couldn't help but be reminded of The Girl With The Dragon Tattoo's Lisbeth Salander. Especially that 2011 H&M collection inspired by her. But I do adore this maxi dress.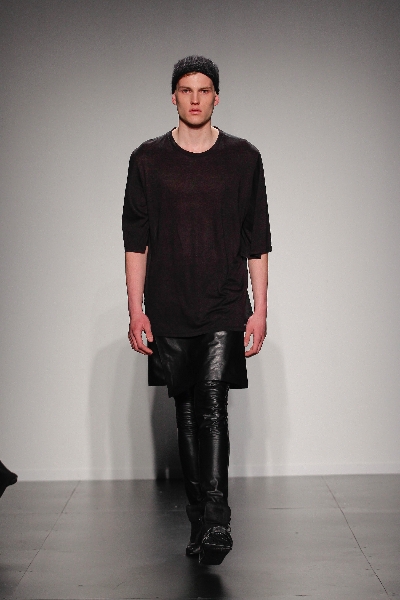 Thomas Bálint
Thomas Bálint— a debut label — looked to the past, modernizing classic styles with innovative design techniques for designer Michael Thomas' prodigal return to the runway. With an approach deeply steeped in sculpture, it was all in the finer details as Thomas explored discreetly detailed androgynous power suits, trench coats and billowing black harem pants.
Stephan Caras
What was not to love at Stephen Caras? So steadfastly focused on shape and movement, soft winter-white fabrics mixed with delicate laces, satins and silk chiffons were offset by dramatic blacks and jersey combined with guipure lace, plunging necklines, open backs, exaggerated slits and trailing lengths. Sculptured gowns featured corset and bustier tops emphasize intriguing shapes, while multi-petal organza and chiffon skirts were engineered to float and flirt.
Pavoni
With its A-lister following, nay, worship, Pavoni is always one the most popular shows. This season the label again brought red carpet glamour to Canada with its grand finale of solidly structured school uniform-inspired threads. Mermaid organza gowns just begged to be draped over Mariah Carey, while the sheer lace leggings bejazzled with black and blue sequins gave a gothic vibe more befitting to a Dita Von Tesse exhibitionist.
Images via World MasterCard Fashion Week