Even though it's still technically winter, the absence of snow on the ground (and the steady 50-degree weather) has us fantasizing about the first days of spring—and the fresh outfits we can't wait to rock. Don't get us wrong, we love layering our cozy winter neutrals, but we also can't resist ogling the spring runways for outfit inspiration. From pastel palettes to futuristic florals, put a little spring into your step by trying one of these (actually wearable!) looks. Your cold-weather wardrobe staples could certainly use a break. 
Soft Pastels
If you've been hiding inside neutral basics and a big parka since the chill first set in, here's a super quick way to refresh your wardrobe: add a pop of pastel. Spring's runways (Marc Jacobs, 3.1 Phillip Lim) showed sherbet oranges and cool mint greens that were more subtle than sugary-sweet, and they'd look fabulous with winter whites. Add a touch of silver accessories to really shine.
Wide Belts
Think all a belt can do is hold up your pants? Not this spring. Designers like Jean Paul Gaultier and Balmain cinched the waists of their models for serious drama, using corset styles and major gold embellishment. Try one next time you slip on your favorite oversize sweater—it'll instantly de-bulk and ground your outfit way better than a skinny belt could. 
Peplum
Frill seekers, rejoice: the ladylike, waist-enhancing detail has gotten an update. Peplum can still be flirty (a la Jason Wu) but can also play it clean cut (like the pearly blouse at Armani), and sci-fi (the jackets at Gareth Pugh). If you're afraid of looking too puffy, stick with a classic look: pair a peplum top with a pencil skirt that hits above the knee to avoid frumpiness, and some slouchy knee-high boots to keep your gams toasty. 
Bauhaus and Deco
Consider it color-blocking made easy. Abstract lines, blocks, and simple stripes in graphic and geometric patterns appeared at Cynthia Rowley and Carolina Herrera. An art-deco inspired sweater over pleated, cropped trousers emits casual elegance.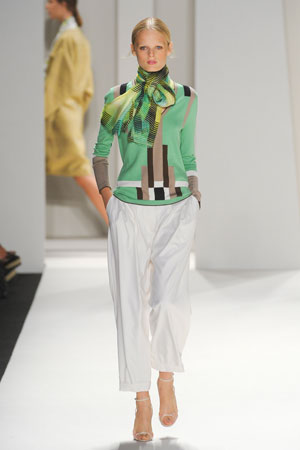 Under the Sea
Designers like Armani, Chanel, and Givenchy made a splash with pearly fabrics, shimmery blues, and aquatic accessories for spring. Feel like taking the plunge? Pick pale-hued tops with either metallic, mermaid-esque sheen or small textural details (pearls in particular), or pile on bright bunches of coral necklaces. 
Futuristic Florals
Gone are the days of "grandma florals"; the digital age has ushered in engineered, abstract prints that are both beautifully alluring and intense. Lurid purple and black blooms flowed across silk georgette dresses at Prabal Gurung, and extremely color-saturated designs at Peter Som rejected any former nostalgia and romanticism. Turn down the volume on this trend by wearing a solid color item (like a tee) and nude shoes with bouquet-splashed bottoms. 
Photos via IMAXtree